Never Been Thawed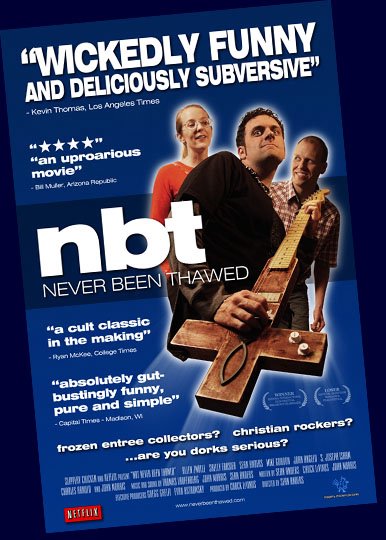 I want to recommend a terrific indie film called
Never Been Thawed
.
I had the good fortune of seeing this movie several months ago at a director's screening. (A friend of mine has the lead female role.) Revolving around a club of frozen food collectors and enthusiasts in greater Phoenix, the plot of this "mockumentary" features an eclectic assortment of characters, their relationships and conflicts.
The Christers
, a punk rock band turned Christian punk rock band by exchaning the word "fuck" for "pray" in their lyrics, are thrown into the mix for good measure.
I found the concept to be fresh, the characters original, and the dialogue hilarious. Watch for masterful strokes in the details such as the magazines, items on walls and table tops, lyrics to the band's songs, and of course, the frozen food packaging. Standout performance by Shelly Frazier (okay, that's my friend, but sweartogod when Billy Crystal saw it, he singled out her performance).
If you appreciate satire, you'll love this movie. See it twice. And the good news for NetFlix subscribers is that it just became available this week, so
go ahead and get it in your queue
!