Losing Interest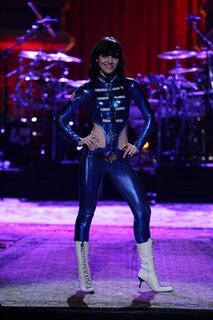 I thought I'd be happier to see Zayra leave Rockstar. But the truth is, I'm ambivalent. And I think it's because I'm becoming less and less interested in Rockstar Supernova each week. Oh, don't get me wrong, I'll watch it to the end, I'm too invested at this point to walk away without seeing it through. Plus, I have to see if Toby makes good on his promise to run naked down Melrose.
But goddamn, did you guys see Supernova play tonight? They are FUCKING CHEESE! I didn't expect them to be
great
or anything. I'd characterize my expectations to be pretty neutral. But that display tonight was craptastic, from the song that was pure garbage, to Dilana's coordinated moves with the horrible,
horrible
dancing girls, to the super 8 effect, it was all bad. Really bad. And I was disappointed. I guess I shouldn't be, I suppose I knew deep down that it could suck that hard. But really, that exceeded my lowest expectations.
While we're on the subject of Dilana, I might as well just go there. I'm losing the love for her a little bit more each week, and tonight, it totally bottomed out. It's hard to put my finger on what exactly it is that's pushing me away, but something definitely is. I'm less and less impressed with her performances as time goes on. I was blown away by Lithium and Zombie, but when she sang with SN tonight, I could barely watch. I literally kept averting my eyes.
So now that there are only seven remaining singers, the competition can get a little bit more serious. I think it's a given that Patrice is next to go. She's been in the bottom three something like four times in seven weeks. Everyone else remaining is really talented, and as long as Supernova stays off the stage, the rest of the performances should be really good. I don't know who is most disappointed to see Zayra's elimination tonight, Jason Newsted or
Michael K
.
Oh, and did you see what
Dave Navarro wrote in his blog today
? He wrote, "P.S. Just to set the record straight, I am currently not dating ANYONE." So much for the Jenna Jameson rumors!